by Frank O'Brien
It was 1982. I was a sophomore in high school and ABCís Wide World of Sports was on television. I watched in amazement as Julie Moss, losing total control of her body, stumbled across the finish line in Hawaii. She had just finished one of the most grueling races ever concocted by man, the Ironman triathlon, an endurance event consisting of a 2.4 mile swim, 112 mile bike ride, and then a 26.2 mile run. There was no way I could ever finish that race, or so I thought at the time.
Fast forward to July 2006. I crossed the finish line at Ironman Lake Placid in 14 hours, 54 minutes. Not exactly world record time. In fact, I was in the bottom 20% of all finishers that day, but for me finishing was a victory.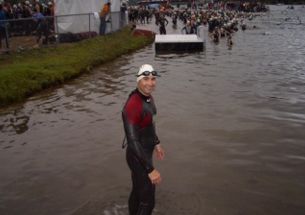 Admittedly, I am not a great athlete, but you donít need to be to participate in an activity that keeps you healthy, focuses you on a goal and allows you to achieve things you didnít think you were cable of. All it takes is a little motivation, some planning, persistence, and patience. Iím not suggesting that Ironman should be your initial goal, start small and see where your fitness takes you. Maybe youíve thought about running a 5K race (3.1 miles), biking 10 miles, or being able to bench press your own weight. Whatever it is, your first step is to set a realistic goal for yourself. Write it down, tell a family member or friend about it, and stay committed to achieving that goal. You may have doubts initially, but thatís natural. When I started training for my first triathlon four years ago I couldnít swim more than a few laps without my arms and lungs burning from the exertion. The key to your success is to train consistently and stay focused.

Think about the planning necessary to achieve your goal. Here are some things to consider:
Research your event or interest by reading a book on the subject. Use the internet as a reference, just be careful to weed through the ďsounds too good to be trueĒ fitness advice.
Discuss the importance of your goal with your spouse or significant other. Youíll need their support, and acceptance of your time commitments to training.
Talk to your primary care physician to make sure that you are medically cleared for your fitness program.
Talk to a personal trainer about establishing a training program (the staff at Todayís Fitness can assist you).
Join a gym, a running club, a biking club, etc. and get advice from other people who share your interest.
Initially you may feel as if youíre in over your head but thatís natural. Everyone taking on something new, be it a job, a class, or something unfamiliar experiences a certain level of anxiety. Stay committed to your training and youíll find that the initial awkwardness goes away. Now get out there and have fun.

Frank O'Brien, Ironman