Training for Your First (or Fastest) Marathon
- by Connie Montana
The marathon is an elusive goal for many Americans. The Boston Marathon is the dream of practically every runner who pins on a number. It is the oldest and most prestigious race in the country, and I've run it! Itís as magical as its storied legend. I'm no former Olympian, just a middle-aged working mom who qualified for and finished Boston, fair and square. In total, I've run seven marathons. You can too. Whether your personal goal is to run one marathon as a lifetime goal, or to run a PR (that's personal record in runner's chat), the information in this article can help you get there.
One of the most popular and successful running coaches is Hal Higdon. Hal has helped a quarter million runners train for the marathon. We will use Hal's training methods for the purposes of this article. There are also a number of charities, like Team Diabetes and Team in Training, that provide coaches, support, and running buds to help you complete that elusive 26.2 miles!
Please keep the following in mind before and during your marathon training:
1. Physical: The first step in your plan should be a complete physical by a physician to clear you for embarking on any running program. Ideally, it should include a stress test to ensure that you have no cardiovascular problems.
2. Shoes: purchase a good pair of running shoes that provide the cushion and support necessary for months of training. This is your most important piece of equipment and will go a long way toward keeping you injury free. Shop with a running friend or visit a store with knowledgeable salespeople. Be certain to take a pair of socks that you will be running in to ensure a good fit. Be sure to run your marathon in shoes you've trained in! Never run a marathon in brand new shoes! You will regret it.
3. Pulse Checks: One way for athletes to monitor their exercise is through the pulse check. This is normally taken at the wrist on the thumb side or at the carotid pulse just in front of the large vertical muscle felt in the neck. Since it is difficult to take your own pulse while running unless you have a heart monitor, a ten second pulse count can be taken during a walking session of the workout. Multiply this number by six to measure your exercising heart rate in beats per minute. In terms of what that heart rate should be, some physiologists suggest that good aerobic benefits can be attained if you are exercising at between 70 and 85% of your maximal heart rate or target range. The maximal heart rate is the number of times our heart is beating at the point near exhaustion; this is most accurately determined by the aforementioned stress test by a doctor. Another way to approximate one's maximal heart rate is to take the number 220 and subtract one's age.
4. Always warm up, cool down, and stretch gently.
5. Race, Rest, and Recovery: For optimal results, be sure to reduce your mileage before and after racing. Your body needs it.
Good luck with your training!
Connie has also run competitively in the USATF Mid-Atlantic Grand Prix Series and is a member of Pike Creek Valley Running Club and Traildawgs (trail runners).
She started running in 2002, entering the Disney half-marathon as part of Team Diabetes to honor her father who passed away of complications from the disease. After training for the 1/2 marathon (13 miles), a clerical error forced her to actually run the entire marathon (26 miles) even though she had never running longer than 13... ever! Although she couldn't walk for 3 days, she got more serious afterwards and wondered, "wow, what if I trained?"
Everyone has to find their own source for motivation... what's yours?

Marathon Training Guide
Most runners choose the Novice program (below). Interestingly, 40 percent of the 45,000 who register for the Chicago Marathon each year are doing their first marathon, often their first road race!
The first question these so-called Newbies ask is: "How do I train?" Whether from word-of-mouth or some other source, they learn that the 18-week schedule for beginning runners is pretty much foolproof. It is a gently progressive program involving four days of running a week. The long run in the first week of training is a relatively easy 6-miler. Each weekend, the long run gets longer, peaking at 20 miles three weeks before the marathon. A tapering period allows runners to gather energy for the race. Step back weeks allow runners to avoid overtraining. Cross-training and ample amounts of rest complete the mix. And it works! Many experienced runners doing their second, third and fourth marathons stick with the Novice 1 program, because it fits well into their busy lives. Or they choose Novice 2, which provides a slight bump upward in difficulty.
For those hoping to improve, to set Personal Records, or to qualify for The Boston Marathon, we also offer two Intermediate and two Advanced programs, each one a logical step upward in difficulty and intensity. To learn more about these free, interactive training programs, visit: http://www.halhigdon.com/marathon/Mar00index.htm.

Marathon Training Schedule: Novice 1
| | | | | | | | |
| --- | --- | --- | --- | --- | --- | --- | --- |
| Week | Mon | Tue | Wed | Thur | Fri | Sat | Sun |
| | rest | 3 m | 3 m | 3 m | rest | 6 | cross |
| | rest | 3 m | 3 m | 3 m | rest | 7 | cross |
| | rest | 3 m | 4 m | 3 m | rest | 5 | cross |
| | rest | 3 m | 4 m | 3 m | rest | 9 | cross |
| | rest | 3 m | 5 m | 3 m | rest | 10 | cross |
| | rest | 3 m | 5 m | 3 m | rest | 7 | cross |
| | rest | 3 m | 6 m | 3 m | rest | 12 | cross |
| | rest | 3 m | 6 m | 3 m | rest | 13 | cross |
| | rest | 3 m | 7 m | 4 m | rest | 10 | cross |
| | rest | 3 m | 7 m | 4 m | rest | 15 | cross |
| | rest | 4 m | 8 m | 4 m | rest | 16 | cross |
| | rest | 4 m | 8 m | 5 m | rest | 12 | cross |
| | rest | 4 m | 9 m | 5 m | rest | 18 | cross |
| | rest | 5 m | 9 m | 5 m | rest | 14 | cross |
| | rest | 5 m | 10 m | 5 m | rest | 20 | cross |
| | rest | 5 m | 8 m | 4 m | rest | 12 | cross |
| | rest | 4 m | 6 m | 3 m | rest | 8 | cross |
| | rest | 3 m | 4 m | 2 m | rest | rest | race |
Elite Bodyweight Exercise of the Month!
Glute Raise with Twist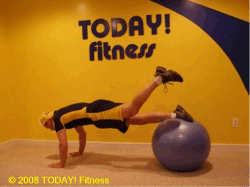 Summary:
I like finding exercises that I've never seen before. I came across this one from one of my youtube fitness subscriptions. Ouch! I'd definitely consider it to be a more advanced exercise that challenges your core, as well as your butt. I would highly recommend trying it with your "fixed foot" on a chair or step first before moving to the stability ball. Stabilizing yourself in a pushup position with your feet elevated is enough to stress your abs. When you stabilize yourself on one leg, its much more difficult. Raising your free leg up will work your butt, and then crossing it underneath while twisting is really going to challenge your obliques. Don't believe me? Give it a try!
Target: abs, sides, and butt (rectus abdominus, obliques, gluteus maximus)

Count: 4 count

Description: Get into starting position by starting with your full body on the ball and then walk your hands out until just your feet are on the ball. Shift your body position so that you can balance on just one foot. Focus on raising your free heel towards the ceiling as far as you can while maintaining a straight bodyline. Lower your free leg down and then extend it under your fixed leg and as far across as you can. Return to original position to complete the repetition.

These Are a Few of My Favorite Things
Forget the raindrops on roses and whiskers on kittens... I'm talking about exercise stuff (surprise). Here's a list of a dozen of my favorite workout equipment that I would recommend when putting together a home gym in 2009.
Stability Ball - whether you're new to working out, or a professional athlete, there are countless exercises that can be performed with this cheap yet highly effective piece of exercise equipment.
Exercise Mat - Although underrated, a good exercise mat is a valuable addition for the multitude of abdominal and floor exercises that you can do. I'd recommend something thick and firm like the Everlast bifold floor mat.
Suspension Straps - I like the fact that these straps provide so many great options for great exercises, yet they are portable enough to put in a small bag or your pocket.
Sand - At roughly $3.20 for a 50 lb bag, you won't find a lesser price per pound for any other weight! I've made a variety of medicine balls, sandbags, and body bars that I still use on a regular basis.
Dumbbells - another extremely versatile necessity for your home gym. Unless you want to invest in a whole wall full of dumbbells at various weight increments, I'd suggest the old adjustable collar dumbbells with plates. For a little more cash, you could also get quick adjust dumbbells like the PowerBlock or SelectTech dumbbells. SelectTech's rock and I've been using mine for years!
Bench - There are a variety of benches that will provide a platform for your exercises. From standard, to those that incline and decline, benches can be used in combination with dumbbells or plenty of other weights.
Cardio Machine: Jump Rope, Treadmill, Elliptical Machine, Exercise Bike... it helps to have something indoors for when there is inclement weather or you can't do something outdoors.
Lat Machine - Personally I would start with a good Lat Machine. Pulling exercises are among the more difficult to get done with bodyweight alone. A lat machine will offer a variety of exercise options for a single machine.
Weight Bench, Barbell, and weights - Typically the first set-up that most guys get, the weight bench typically represents the highlight of weight training. However, a good weight bench will also offer a range of positions that can be used to build full development of your chest, shoulders and triceps.
TV/DVD: There are a limitless number of exercise programs available on DVD and VHS (even On-Demand). I like to mix up my cardio workouts and frequently throw in a Power 90 or TaeBo workout when I'm not using the elliptical.
Chairs - What? I'm serious! I have 2 sturdy folding chairs in my gym and use them for a variety of dips, as well as for step-ups, split squats, tricep blasts, deep push-ups... they're very useful.
Chin-up Bar - Another cheap piece of exercise equipment, but chin-ups are still one of the most effective exercises that you can perform for your back!
People get the impression that they will magically get in shape simply buy purchasing a big shiney home gym. This of course is not the case so don't use it as an excuse! Start with what you have... even if it's just your body. Once you get into the swing of things, you'll have a better idea of what pieces will help you to reach your goals. If not, let me know : )

It's Go Time!
New years... the time of resolutions! Now that we're done with the Halloween, Thanksgiving, Christmas, and New Year's holidays... the festive temptations should die down a bit. The ball is in your court and it's up to you to decide what you want to do with it. No matter what your goals are, you have to decide to commit to them and whether you are willing to make the sacrifices required to achieve them.

With 5 months to go before swimming weather (about 20 weeks)... you have the "potential" of safely dropping 20 to 40 pounds of unwanted fat (at 1-2 pounds per week). This doesn't just happen as I've said... it requires desire, determination, will power, and lots of hard work! Nothing to be afraid of, but you should to be aware of what you need to do, and make yourself a promise to do it!

For prior issues of this newsletter go to www.todayfitness.net/news.

Good Luck!

Pete Mazzeo, CPT
pmazzeo@todayfitness.net

"People often say that motivation doesn't last. Well, neither does bathing... that's why it is recommended every day!"


youtube video of the month --> Wrestler Training


Impressive training regime (and results) of a high school wrestler