The Latest on S T R E T C H I N G
Hey, I'm as guilty as anyone when I'm in a time crunch for my workout. I focus more on the effort stuff like the resistance training and cardio, and less on the prep and injury reducing stuff like STRETCHING! One thing I have noticed as I've gotten older is that flexibility training is essential for muscle recovery, reducing soreness, and joint health, in addition to mobility.
For those of you that haven't stayed up on this stuff, there have been some new studies in recent years regarding the type of stretching to perform and when to perform it. To summarize the portion of these studies that I wanted to talk about, "dynamic" stretching is recommended prior to working out or participating in athletics, while "static" stretching is recommended post workout in order to recover.
Dynamic stretching is a form of stretching beneficial in sports utilizing momentum from form in an effort to propel the muscle into an extended range of motion (not exceeding one's static-passive stretching ability). Dynamic stretching increases range of movement, blood and oxygen flow to soft tissues prior to exertion.
Increasingly coaches and sports trainers are aware of the role of dynamic stretching in improving performance and reducing the risk of injury. In the past it was the practice to undertake static stretching before exercise. However, static stretching has been proven detrimental to performance, as recent studies have shown that it tampers explosive ability. Static stretching also augments the joint and can promote instability in the joint, thus making an individual more susceptible to injury. Individual should turn to more dynamic stretching to enhance rather hinder performance.
Some of the typical exercises that I will include at 30 second intervals when warming up my clients include..
High Knees

Butt Kickers

Jumping Jacks

Mummy Kicks


Huggers


Arm Circles

Static stretching is used to stretch muscles while the body is at rest. The focus of the technique is to gradually lengthen a muscle to an elongated position (to the point of discomfort) and hold that position for 30 seconds to two minutes. 30 seconds is the minimum duration to get the benefits of stretching, whereas two minutes is the maximum (if a position can be held for more than two minutes, a farther stretch should be performed).
Static stretches are best utilized at the end of your workout to help return the muscles to their pre-workout elongated state, to help relieve lactic acid, and to eleviate muscle soreness. Here are a few of my favorite stretches that I try to perform top-down after working out...

neck stretch
grab wrist behind back, tilt head towards out-elbow, slowly look up then down
shoulder stretch
straight arm across, pull into stretch with other arm
tricep-shoulder stretch
bent arm up, reach down upper back, slowly pull elbow with other hand
chest stretch
arms straight out, corner of a room, try to get chest as far forward as possible. Good one on chest day to help growth!
shoulder-scap stretch
lock hands behind back, stretch hands straight down pulling shoulders back and chest up
forearm stretch
point hands backwards, gently rock your butt backwards. Really good, little known stretch
forearm stretch
arm out, palm up, bend hand down using other hand
wrist mobility
arm out, palm down, twist hand outward while bending palm towards forearm. helpful in preventing carpal tunnel
wrist mobility
another carpal tunnel preventer. Bend palm toward forearm with other hand.
side stretch
common yoga stretch that helps to stretch the sides/obliques. straight arm up, push your hip out to the side opposite the direction you are bending. keep legs straight
ab stretch
start in the down position of a push-up. try to keep your hips down while you straighten your arms. keep head and neck straight rather than shrugging shoulders
glute stretch
can be performed on the ground, but better massage stretch with a ball. Cross ankle to knee and rock back and forth on that butt muscle
hip flexor stretch
start on one knee with that same arm up in the air. Pull your body forward with the other knee while side bending over the up knee. Hip stretches are one of the most frequent questions I get.
quad stretch
stand on one leg, holding the wall if you need to, pull up the other foot while keeping your knee down
hamstring stretch
in addition to touching your toes, this one works well. Keeping your heels down, walk your hands out as far as you can, then walk your feet up as far as you can. Do the same thing backwards.
calf stretch
lean back and try to place the ball of your foot against a wall or other stable vertical object with your heel on the ground, then pull your body forward into the stretch
calf stretch
keeping one heel down, alternate pedaling one foot then the other
There are so many stretches that you can perform, and I thought of a bunch of others after I finished taking the pictures (groin stretches, IT band, etc..) but just to get some of them into your routine and see what a difference it makes in how you feel and perform!

USA Bodyweight Exercise of the Month!
Suspended Crunch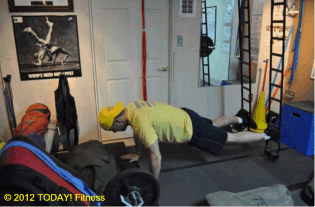 Summary:
I love this style of crunch! I like to mix this one up and do them on furniture sliders, stability balls, my power wheel, or anything else that allows me to move my feet while my hands are anchored. With the suspension straps, your feet have less friction then the floor version, but they still provide an ab-kicking stomach workout J that you will feel if you get a good number of quality reps in!
Target: core and chest (rectus abdominus, erector spinae, pectoralis major)

Description: Place your feet in a low rung of your suspension straps and assume a pushup (high plank) position with your hands. Pull your knees in towards your chest as far as you can, pause, and return to starting position. Repeat for maximum repetitions.

There's an App for That
Since they're popping up left and right in this smartphone addicted generation, I thought I'd add a regular column for health and fitness apps that catch my eye.

So since I did an article at the end of last year about some of the ones that I've been using, I'll start off this column with a few new ones that I just downloaded. As part of my personal training certification, I have to maintain a currently CPR and AED certification as well. So in preparation for the American Heart Association certification I downloaded 2 really good reference apps that most people could probably benefit from.

The first is an application from the American Heart Association called "Pocket First Aid & CPR" and includes a wealth of information for everything that you need to know for first aid incidents as well as lifesaving CPR and AED usage.
Always handy to have for athletic events, poolside, or any time that you want to brush up on this valuable information. I recommend going through it prior to an emergency... not when you're in the hot seat!
The other application that I downloaded is more focused on the CPR portion. "Pocket CPR" by Zoll includes audio and visual prompts, step by step processes, tempo counts... really everything that you could need to walk you through performing CPR during an emergency situation.
I was very impressed with the easy to use layout and flow of the application.
Whether you are a health care professional, a parent, or any responsible adult... CPR is a valuable skill to know and these apps are a great reference to have available to you.

Recipes for Health
I'm a huge fan of the "this not that" books. I think I have 5 of them so far... they make great coffee table books
; ) I took this month's recipe from the latest updated edition of Eat This Not That, since it caught my attention enough to want to make it.

Italian Meatball Soup
Ingredients:
1 lb ground beef
2 medium eggs or 1 extra-large egg
1/4 cup bread crumbs
1/2 cup finely grated Parmesan cheese
salt and ground black pepper to taste
1/2 Tbsp olive oil
1 onion, chopped
2 carrots, peeled and chopped
2 ribs celery, chopped
8 cups low-sodium chicken stock
1 head escarole, chopped into bite-size pieces
3/4 cup small pasta (orzo, pastina, broken spaghetti)
Directions:
Combine the beef with the eggs, bread crumbs, cheese, and good-size pinches of salt and pepper in a mixing bowl. Being careful not to overwork the mixture, lightly form into meatballs roughly 3/4 inch in diameter (a bit smaller than a golf ball)
Heat the olive oil in a large pot over medium-high heat. Add the onion, carrots, and celery and saute' until the vegetables have softened (about 5 minutes) Add the stock and the escarole and bring the soup to a simmer. Turn the heat down to low and add the meatballs and pasta. Simmer for another 8-10 minutes, until the meatballs are cooked through and the pasta is al dente.
Adjust seasoning with salt and pepper to taste. Serve with extra cheese on top.
Makes 6 servings / Cost per serving: $2.63
ref. Eat This Not That - 2012 Edition

It's Go Time!
Yay May! Since the nice weather came early this year, I'm sure that most of you are well into your outdoor exercise routine, right?

Come on... what's not to love?! The sunlight and nice weather just has a way of waking you up and making you want to do things. Energy and motivation should be cranking up for EVERYBODY now!

As a personal trainer, this is the time that the emails and phone calls pick up... I recently picked up a few more clients, a workout partner, and a few more members of our Sunday Warrior Workout Club ! Now THAT is what gives ME motivation and makes things fun! Get pumped for exercise... talk it up... and spread the love! Motivation is contagious and the more the merrier when it comes to exercise!

For

prior issues of this eNewsletter, to subscribe, or unsubscribe, please visit the following link --> todayfitness.net/news.
Exceed Your Potential!

Pete Mazzeo, CPT
pmazzeo@todayfitness.net

"I wasn't surprised by my success at the
Olympics" - Jeremy Wariner
youtube of the month -->
Low Tech High Effect with Tires

Very creative compilation of exercises that can be performed
with tires.