There is no "quick fix" for losing weight, toning up, or getting in shape so stop looking! Here's the not-so-secret formula: You have to want to do it - You have to set achievable fitness and nutrition goals... You have to decide how important your goals are... You have to analyze your priorities... You have to determine what you are willing to do to achieve success... You have to find a way to make it happen!
I'm not saying that it is going to be easy... but are you willing to do what it takes to improve your health, body composition and overall quality of life? If you're not sure how to start, I can help...
Orientation Session
1-on-1 Personal Training Sessions
Weight Training Exercise Dictionary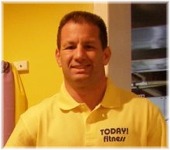 Prices and Packages
(sessions and packages available at the TODAY! Fitness Home Studio
or as "house calls" at your New Castle County home)

Easy secure payments courtesy of


Schedule a Free Consultation by completing
the pre-session questionnaire:
Pre-session Questionnaire
What to expect during your first session...
NEW!: BODY COMP SESSION SPECIAL